Search Engine Optimization
Search Engine Optimization is the most challenging yet rewarding online marketing project a marketer can undertake. Different from all other type of internet marketing, SEO takes a focused strategy, constant upkeep and a clear understanding of how the major search engines respond to constant changes in the online atmosphere.
Search engine optimization is a hugely important tactic for driving traffic to your site. The process of optimizing web pages and their content in order to be found by users searching for terms relevant to your website is a complex set of strategies and tactics. Here are reasons to take a serious look at hiring a pro to optimize your website.
1. It's not easy.
You can read articles about on page SEO and think you have it all figure out but in reality, there are so many considerations specific to your website, content optimization, user experience and effective back-linking that your head will spin.
2. The rules keep changing.
Even if you take the time to become somewhat knowledgeable, it's temporary as Google regularly rolls out major and minor changes to their algorithm. Poof, there goes all that time you spent learning something that no longer applies.
3. You can do harm.
Some tactics actually can hurt your rank in search and can even create penalties.
4. You won't have the right tools.
There are many tools and services available to help you develop an effective SEO campaign but how do you know which one is the best?  Our firm utilizes software that can provides greater context and extra insights into keyword relevance, competition, search volume and more.
5. There are ROI benefits to SEO.
SEO targets people who are specifically looking for the products or services you offer. Achieving strong organic rankings can increase your organic (aka free) traffic as well as benefitting other marketing strategies; lowering the cost-per-click, for example.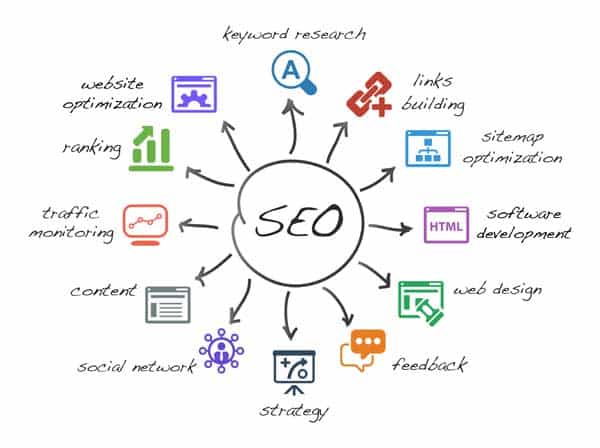 What do you get from Search Revolutions SEO?
In-depth SEO Site Review & Audit
Initial Ranking Reports
Keyword Analysis
Competitor analysis
Onsite SEO Optimization
Analytics & Webmaster Tools Setup
Social Bookmarking
Link Building Campaign
Blogging & Content Development
Press Releases
Search Engine Submissions
Manual Directory Submission
Business Listings
Local Directory Submissions
Canonicalization
Title tag and meta keyword optimization
HTML code optimization
HTML/XML Sitemap
Robots.txt
.htaccess
404 Error Handling Page
301 Redirects
Canonicalization
Pricing for Our Services:
Our packages are customized per our client's needs and budget with no set up fee.
Call, email or fill out the form for a free, custom quote.
*Indicates Required Fields